Please be patient as we continue to build our online catalog. Contact the store for availability and pricing.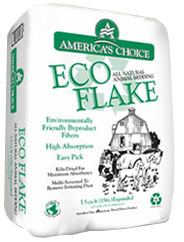 America's Choice premium horse and livestock bedding Eco Flake
---
---
Our America's Choice brand is the preferred stall bedding for work, show, livestock and companion animals. Owners know they can count on the unbeatable consistency, quality and value of America's Choice wood shavings.
America's Choice offers a full line of high-quality equine and livestock bedding products.
---
We Also Recommend