Please be patient as we continue to build our online catalog. Contact the store for availability and pricing.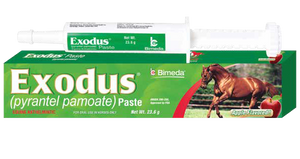 Bimeda Exodus® Paste (pyrantel pamoate)
---
---
Exodus® Paste (pyrantel pamoate) is a pale yellow to buff paste containing 43.9% w/w pyrantel pamoate in an inert vehicle. Each syringe contains 3.6 grams pyrantel base in 23.6 grams paste. Each milliliter contains 171 milligrams pyrantel base as pyrantel pamoate.
Indications
For the removal and control of mature infections of large strongyles (Strongylus vulgaris, S. edentatus, S. equinus); small strongyles; pinworms (Oxyuris equi); and large roundworms (Parascaris equorum) in horses and ponies.
Benefits
Contains proven

 

pyrantel pamoate

 

for safe, positive worm removal and control
Over 90% effective against most major equine worms
Apple flavored

 

for exceptional palatability
Available in easy-to-use Single Dose, 23.6 g syringes
Pre-measured plastic syringes provide convenient, accurate dosing
Safe: Approved by FDA
Withdrawal Period
Not intended for use in horses intended for human consumption.
Pack Size
| | | |
| --- | --- | --- |
| List No. | Pack Size | Case Size |
| 1EXO001 | 23.6 g | 72 (6 x 12) |
| 1EXO010 | 23.6 g | 100 |
---
We Also Recommend