Please be patient as we continue to build our online catalog. Contact the store for availability and pricing.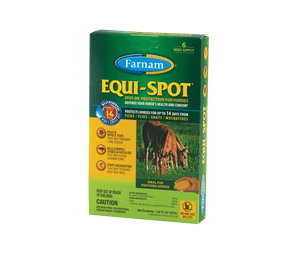 Equi-Spot® Spot-on Protection for Horses
---
---
Key Benefits
Insects are more than annoying; they can also transmit serious diseases. You can't always be there to apply fly and insect protection, but Equi-Spot® Spot-On Protection for Horses does the job for you. Applied once every two weeks, it provides long-lasting control against dangerous ticks that can spread Lyme disease and mosquitoes that may transmit West Nile Virus and Equine Encephalitis, as well as biting flies and gnats.
Protection lasts for up to 14 days
Ideal for pastured horses
Won't wash off in rain or when your horse sweats
Available in a 6- or 12-week supply
Directions for Use
It is a violation of Federal law to use this product in a manner inconsistent with its labeling.
DO NOT USE ON HORSES INTENDED FOR FOOD USE.
DO NOT USE ON FOALS UNDER 12 WEEKS OF AGE.
Do not allow the product to contact horse's eyes or mucous membranes. When finished, wrap applicator and put in trash. Do not reapply for 14 days (2 weeks).
Horses
Do not allow the product to contact horse's eyes or mucous membranes. (2 weeks).
Storage and Disposal
Do not contaminate water, food or feed by storage or disposal.
Pesticide Storage: Store in cool, dry place. Protect from freezing.
Pesticide Disposal: If empty: Do not reuse container. Place in trash or offer for recycling if available. Call your local solid waste agency for disposal instructions. Never place unused product down any indoor or outdoor drain.
Remove product applicators from package. Fold along perforation between applicators and tear off one application. Return unused applicators to package. Holding applicator with tipped end pointing up and away from face and body, snap off narrow end at fold line. Apply one applicator (10 ml) of product as follows:
For optimum effectiveness, apply one spot to each location pictured in diagram below. Apply to both the right AND left sides of the horse. Use all product in applicator.
Hold the left and right sides of applicator between your thumb and index finger. With the back end of applicator tilted slightly downward, softly place the at edge of the applicator tip on the location where you want to apply the product. Slowly tip back end of applicator upward until a spot of product, approximately the size of a quarter, is expelled from applicator.
Equi-Spot® topical is most effective when applied such that it can spread over the largest portion of the horse's body surface possible. For maximum protection, apply product as described below to the specified target areas in each Defense Zone.
It is a violation of federal law to use this product in a manner inconsistent with its labeling.
---
We Also Recommend