Please be patient as we continue to build our online catalog. Contact the store for availability and pricing.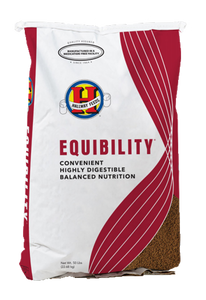 Hallway Equibility® Horse Feed
---
---
Edge Technology® based products are formulated using "super-fibers," which are digested as fiber in the cecum, but have the unique ability to provide readily accessible forms of digestible energy. Readily digestible fiber sources are complimented by the addition of vegetable oil, which is 2 ¼ times more energy dense than cereal grains.
Equibility® is a fully fortified pelleted feed, formulated for the active, mature horse. Manufactured with sources of soluble fiber and vegetable oil, Equibility provides long lasting energy release and controlled performance. Diets with elevated grain levels may result in a horse that is difficult to handle. Equibility is calorie-dense, but "non-heating"— perfect for horses that are difficult to handle or mentally too "high."
Equibility is fortified with Stamm 30®, the mechanism for providing bioavailable sources of protein and critical micronutrients to the mature horse.
Feeding Instructions
Equibility is designed to be fed at 6-18 pounds per day depending on the horse's size, body condition, stage of development or reproductive stage. When fed as directed, additional protein, vitamin or mineral supplements are unnecessary. Always provide clean, fresh water and high quality hay.
Formulated for the Maintenance of the Active Mature Equine

Utilizes the Latest Scientific Innovations

Nutrient Dense, High Fiber and Added Fat
Nutritional Analysis
PROTEIN 12%
LYSINE 0.7%
METHIONINE 0.2%
THREONINE 0.6%
FAT 8%
FIBER 15%
ADF 21%
NDF 35%
CALCIUM 0.8%
PHOSPHOROUS 0.6%
MAGNESIUM 0.3%
COPPER 42 PPM
SELENIUM 0.5 PPM
ZINC 115 PPM
VITAMIN A 5,000 IU/LB
VITAMIN D 500 IU/LB
VITAMIN E 100 IU/LB
VITAMIN C 130 MG/LB
---
We Also Recommend