Please be patient as we continue to build our online catalog. Contact the store for availability and pricing.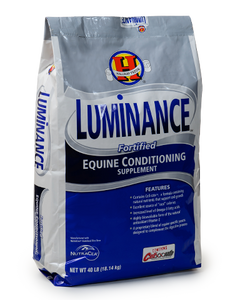 Hallway Luminance Fortified Equine Conditioning High Fat Horse Feed
---
---
Designed to add additional calories to the ration of performance horses, horses being prepared for sale, mares, stallions or horses simply in maintenance or light work. Luminance® is much more than an excellent source of "cool calories," it supplies:
Increased level of omega-3 fatty acids provided by nutritious and extremely palatable milled flaxseed

Supplemental levels of proteinated (highly bioavailable) copper, zinc and manganese

Highly bioavailable forms of the "often forgotten" macro-mineral magnesium

Highly bioavailable form of the natural antioxidant vitamin E

Additional levels of the critical micro-mineral selenium
Luminance® is an ideal blend of flax seed and stabilized rice bran to give your horse the final bloom you desire, compounded with beneficial anti-oxidants for decreased muscle recovery time.
Feeding Instructions
Luminance is a fortified horse conditioning supplement that is designed to add additional calories to the ration as well as providing supplemental vitamins, minerals and other essential dietary components. Luminance may be fed alone or mixed with feed depending on the intensity of physical activity, stage of reproduction, size and body condition of the horse.
Nutritional Analysis
PROTEIN - 12%
FAT - 24%
OMEGA 3 FATTY ACID - 3.25%
FIBER - 12%
ADF - 17%
NDF - 31%
CALCIUM - 1%
PHOSPHOROUS - 1%
COPPER - 25 PPM
SELENIUM - 0.3 PPM
ZINC - 70 PPM
VITAMIN A - 3,000 IU/LB
VITAMIN D - 600 IU/LB
VITAMIN E - 250 IU/LB
BIOTIN - 5.2 MG/LB
PRINTABLE VERSION
---
We Also Recommend