Please be patient as we continue to build our online catalog. Contact the store for availability and pricing.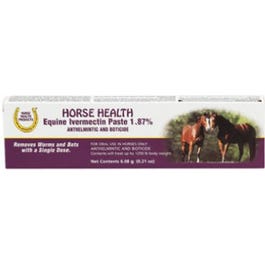 Horse Ivermectin Dewormer, 6.08-gm.
---
---
6.08 gram, horse health ivermectin equine dewormer, kills 35 species & stages of worms & bots combined, kills all 3 stages of the 2 most common bot species, use 6 times per year for broad spectrum parasite control, for use on all horses including: broodmares, stallions & foals, no age restrictions, 1 syringe deworms horses up to 1,250 lb, multi-dose syringe treats up to 3,750 lb.
---
We Also Recommend