Please be patient as we continue to build our online catalog. Contact the store for availability and pricing.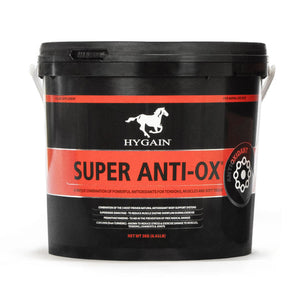 Hygain® Super Anti-Ox
---
---
A UNIQUE COMBINATION OF POWERFUL NATURAL ANTIOXIDANTS FOR THE HEALTH AND STRENGTH OF TENDONS, MUSCLES AND SOFT TISSUE
A high strength Curcumin based antioxidant formulation to support a horse's natural defense system against muscle, tendon, ligament and joint damage when in strenuous exercise or racing.

For more information on the important role of antioxidants in the function and repair of muscle and connective tissue during and after intensive exercise refer to the HYGAIN® website www.hygain.com.au.

The equine athlete's large muscle groups, coupled with the intense physical demands placed on tendons, ligaments and joints, underscore the requirements for optimal blood levels of critical antioxidants.

Contains activated water soluble and bioavailable Curcumin (from Turmeric), Superoxide Dismutase and Proanthocyanidins. Suitable for horses of all ages, especially those in hard work.
Ensorb® Curcumin Soluble Micelle, Acti-meal® Proanthocyanidins, Melofeed® Superoxide Dismutase, Acti-Meal® Inactive Component, Zeolite, Molasses Flavour and Sucram C150 Sweetener.
ACTIVE INGREDIENTS PER SCOOP (30 g) CONTAINS:
Ensorb® Curcumin Soluble Micelle 2000 mg
Acti-meal® Proanthocyanidins 64 mg
Melofeed® Superoxide Dismutase  520 IU
INACTIVE INGREDIENTS PER SCOOP (30 g) CONTAINS:
Acti-Meal® Inactive Component 24.7 g
Zeolite 3 g
Molasses Flavour 30 mg
Sucram C150 Sweetener 30 mg
| | | |
| --- | --- | --- |
| Nutrient | Nutritional Analysis per 30g (1.1 oz)  | Nutritional Analysis per LB |
| Ensorb® Curcumin Soluble Micelle  | 2,000 mg | 30,239mg |
| Acti-meal® Proanthocyanidins   | 64 mg | 968 mg |
| Melofeed® Superoxide Dismutase  | 520 IU | 7,862 IU |
| | | |
|  Acti-Meal® Inactive Component  | 24.7 g | 373.5 g |
|  Zeolite  | 3 g | 45.4 g |
|  Molasses Flavour  | 30 mg | 454 mg |
| Sucram  C150 Sweetener | 30 mg | 454 mg |
---
We Also Recommend