Please be patient as we continue to build our online catalog. Contact the store for availability and pricing.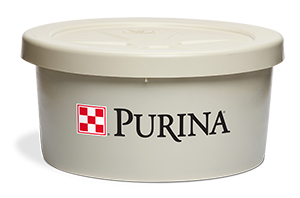 Purina® EquiTub® with ClariFly®
---
---
Purina
®
EquiTub
®
with ClariFly
®
is an easy-to-feed, self-fed horse supplement for consistent nutrition and seasonal fly control.
You can count on our research-backed formula to provide supplemental nutrition, fly control and gastric support in a palatable form designed for multi-horse convenience. High-quality ingredients such as alfalfa, rice bran and flaxseed are paired with cutting-edge technology to help ensure consistent intake and nutrient delivery. The formula also includes ClariFly
®
Larvicide. This feed additive passes through the horse and is expelled in the manure where house and stable flies lay their eggs, preventing the emergence of adult flies.
Feed with confidence knowing Purina
®
EquiTub
®
with ClariFly
®
is manufactured in an ionophore-free facility and has been tested at the Purina Animal Nutrition Center and in field trials around the country.
Purina® EquiTub® with ClariFly® is available as a 125-pound tub.
Feed-through Fly Control
Contains ClariFly® Larvicide, a feed additive that passes through the horse and is expelled in the manure, where it helps control house and stable fly populations by interrupting their life cycle
Gastric Support
Formulated with Outlast® gastric support supplement to support optimal gastric pH
Bloom and Body Condition
Formulated with Amplify® high-fat horse supplement to maintain body condition, shine and bloom
High-quality Ingredients
Provides essential nutrients typically missing in forage
Ionophore-free Manufacturing
Made in an ionophore-free facility
Acid Detergent Fiber (ADF)
Neutral Detergent Fiber (NDF)
Best Results
This product is designed to be offered free choice to mature horses on pasture or drylot.

Offer one tub per 1 to 5 horses.

Replace tub when empty (a small amount may be left in the bottom of the tub).

If intake is above or below desired levels, increase or decrease the number of feeding locations and/or change the location to a more or less frequented area.

Always feed a minimum of 1.0 - 1.2 pounds per 100 pounds of body weight of good quality, clean hay or the equivalent in pasture.
---
We Also Recommend