Please be patient as we continue to build our online catalog. Contact the store for availability and pricing.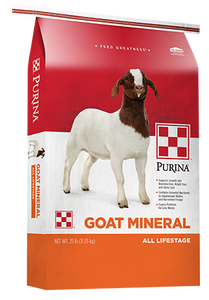 Purina® Goat Mineral Supplement
---
---
Purina
®
 Goat Mineral is a uniquely formulated goat supplement, rich in nutrients that are essential to the proper development and well-being of goats of all ages and breeds. This coarse particle goat mineral feed is designed to support a healthy immune system and growth, bone and hoof development, reproduction and milk production in goats. Purina
®

 
Goat Mineral is now reformulated with even higher calcium levels to support healthy parturition, an Availa 4
®
 package for increased bioavailability, and elevated copper levels for reproduction and health.
Higher Calcium levels
Supports healthy parturition
Availa 4® package
For increased bioavailability 
Elevated Copper levels
Helps support  health and reproduction
Calcium, phosphorus, magnesium and vitamin D
Supports proper development of bones and optimal milk production
Vitamin A
Helps support reproduction and vibrant eyes
Vitamin E and selenium
Antioxidants that help muscle development
---
We Also Recommend