Please be patient as we continue to build our online catalog. Contact the store for availability and pricing.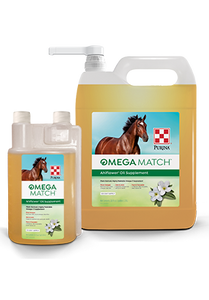 Purina® Omega Match® Ahiflower® Oil Supplement
---
---
PLANT-DERIVED, HIGHLY PALATABLE OMEGA-3 SUPPLEMENT
WHAT IS AHIFLOWER®?
A truly unrivaled omega source. Ahiflower® oil contains more omegas than other plant based oils commonly fed to horses. The unique fatty acid profile delivers benefits associated with fish oil, evening primrose oil, olive oil and flax seed oil.
More Omegas
Not from fish; more omegas than flax
Skin & Joint
Supports optimal skin and joint health
Pure & Traceable
A filtered, fully-traceable, plant-based oil
Recommended For:
Comprehensive omega fatty acid supplementation to support joint, cardiovascular, skin, respiratory and reproductive health, muscles, immune function, and normal glucose metabolism
ACTIVE INGREDIENTS per 30 mL Ahiflower® (refined Buglossoides arvensis) seed oil, 27.6g per 30 mL  
| | |
| --- | --- |
| Omega-3 fatty acid  | 17.30g |
| Alpha-Linolenic acid (n-3) | 11.72g |
| Stearidonic acid (n-3) | 4.74g |
| Omega-6 fatty acid | 4.19g |
| Linoleic acid (n-6) | 2.79g |
| Gamma-Linolenic acid (n-6) | 1.39g |
| Omega-9 fatty acid | 2.79g |
INACTIVE INGREDIENTS Ascorbyl Palmitate, Mixed Tocopherols and Rosemary Extract.
Best Results
DIRECTIONS FOR USE:
Administer orally 30 mL Purina
®
Omega Match
®
Ahiflower
®
Oil supplement per day. For horses needing additional support, administer 60-90 mL per day. Store upright after opening.
Caution
If animal's condition worsens or does not improve, stop product administration and consult your veterinarian.   
For use in horses only.  
Warning
Not for human consumption.
Keep out of the reach of children and animals. In case of accidental overdose, contact a health professional immediately. This product should not be given to animals intended for human consumption.
Wash hands after feeding/handling animals. 
Wash feed/water containers regularly.