Please be patient as we continue to build our online catalog. Contact the store for availability and pricing.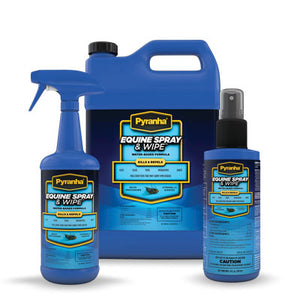 Pyranha Equine Spray & Wipe™ Water Based Formula
---
---
Our water-based formula is quickly becoming a stable favorite among horse owners. It won't attract dust and grime like oil-based products and offers long-lasting protection against a wide array of insects. Available in 4 oz trail-size, quart or gallon sizes.
Features:
Ready-to-use water-based formula
Kills deer ticks that may carry Lyme Disease
Quick knockdown
Kills and repels flies, ticks, mosquitoes and gnats
Kills and Repels:
Stable Flies
House Flies
Bot Flies
Horse Flies
Horn Flies
Ticks
Deer Flies
Mosquitoes
Fleas
Face Flies
Gnats
Lice
---
We Also Recommend