Please be patient as we continue to build our online catalog. Contact the store for availability and pricing.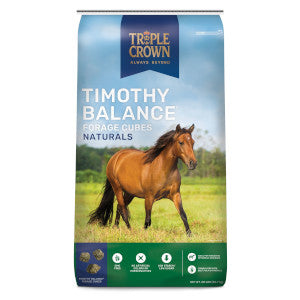 TRIPLE CROWN NATURALS TIMOTHY BALANCE® CUBES
---
---
A GMO AND SOYBEAN FREE DIET OFFERING CONSISTENT, CONVENIENT, LOW PROTEIN FORAGE REPLACEMENT OR SUPPLEMENTING. IDEAL WHEN EXCESSIVE SOLUBLE CARBOHYDRATES ARE A CONCERN.
Triple Crown Timothy Balance® Cubes are a consistent, convenient, low protein forage replacement or supplement formulated with Timothy hay, beet pulp and specific minerals. Designed for horses with Cushing's disease, insulin resistance, laminitis and other conditions when a nutritious, low non-structural carbohydrate diet is recommended.
---
We Also Recommend