The Best Gardens Deserve The Best Birds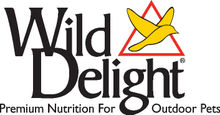 Wild Delight® produces a variety of food to attract the most desirable outdoor pets. Advanced Formulas® have premium ingredients and complete vitamin-mineral fortification, including real fruits and nuts. Natural Formulas contain only natural premium ingredients. Wildlife Formulas are specifically designed for backyard wildlife.
Product Guide
Bugs N' Berries®
Cardinal Food
Crunch N' Nut® Squirrel Food
Deck, Porch N' Patio®
Fruit N' Berry™
Golden® Finch Food
Nut N' Berry®
Sizzle N' Heat®
Songbird Food
Special Finch® Food
Woodpecker, Nuthatch N' Chickadee®
Zero-Waste® Fruit Blend
Bird Feed:
Bird Feed: Advanced Formula, Less Mess, Natural Formula, Outdoor Pet Blocks, Wildlife Formula, Feeders
Come visit our horse, livestock, poultry & pet store in Simpsonville, KY specializing in a large selection of premium feeds, hays, bedding & supplies for your animals.